NEW MOTIVERSITY REFERRAL PROGRAM

Hi everyone!
We, at Motiversity, have some exciting news to share! We've just launched our brand-new Newsletter Referral Program, designed to reward our loyal subscribers for spreading the Motiversity love.
Get ready to be inspired and motivated to refer your friends and family to our newsletter while unlocking fantastic discounts in return!
Here's how it works: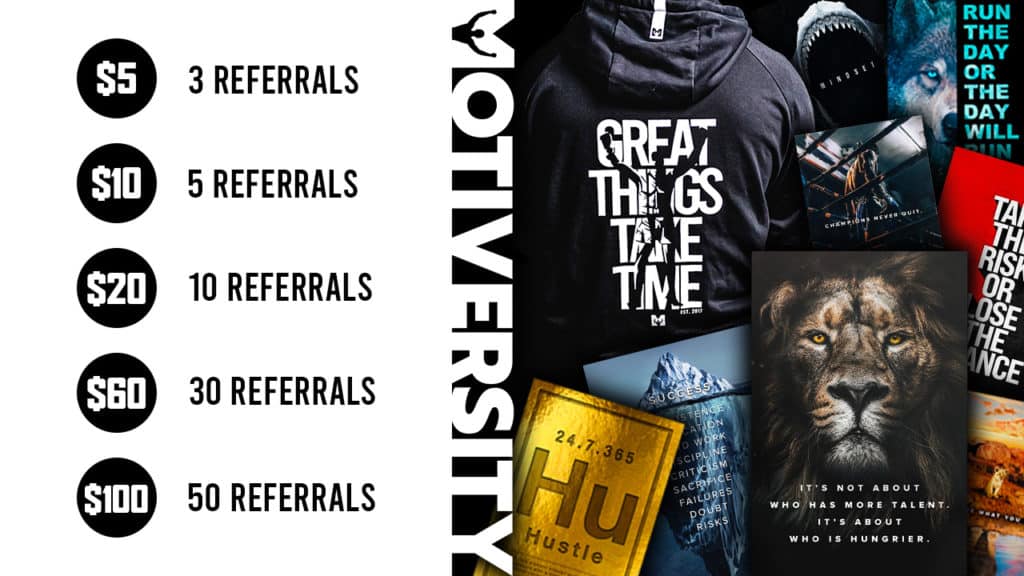 Share Your Unique Referral Link: Once you've subscribed to our newsletter, you'll receive a
unique referral link. Share this link with your friends, family, and social networks.
They Subscribe, You Earn: When someone clicks on your referral link and subscribes to
Motiversity's newsletter, you're one step closer to earning your discounts.
Track Your Progress: Keep an eye on your referral progress through your personalized
dashboard. You'll know exactly how close you are to unlocking your next discount.
Our Referral Program is not only about discounts; it's about building a community of motivated individuals who uplift each other to achieve their goals and dreams. By referring others to Motiversity, you're helping them access valuable resources for personal and professional growth.
So, what are you waiting for? Dive into the world of motivation and inspiration with Motiversity's NEW Referral Program.
Remember, the more you share, the more you save. Let's spread the power of motivation together and make the world a more inspired place, one referral at a time.
Join the Motiversity family and unlock your potential today!
Please don't forget to subscribe to our mailing list and receive many more inspiring posts like this via email. Simply enter your name and email address below to get started. It's free, so why not!
Join our social media community for motivational content and tips and tricks on how to achieve your goals and follow your dreams!
If you know someone who could use this article, share it with them!!
Let us know in the comments what you would like to see next and for more powerful motivational articles, check out our Motiversity Blog!